My brother George O'Leary sent me something he recently wrote. I thought this would be a good forum to share (with his permission).
Once Saved, Always Saved? by George O'Leary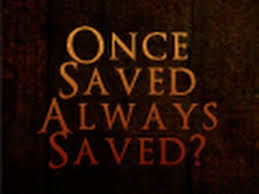 O how I've struggled with once saved always saved. I know and believe as it says in Romans 10:13 that all who call on the name of the lord shall be saved. I know that "No one can snatch us from our Lords hand" John 10:28-30 (paraphrasing) I know I've been sealed and given the Spirit in my heart as a guarantee, 1Corinthians 1:22. I know that it was Grace that saved me and not by works, Ephesians 2:8, 9. And I being a chief sinner like Paul, most definitely know that. I know that I am far from perfect but, I also know that I have been changed. I can absolutely feel it! My family and friends have seen it. I'm not boasting on myself but the changing power of the Holy Spirit when I accepted Jesus Christ as my Savior and Lord.
And, I think that is where I have had trouble with once saved always saved. I do not understand how people can accept the finished work of Jesus Christ and continue to live a life that is contrary to the Word of God. Don't they realize that they have accepted the grace of God and have been freed from sin, death, the grave and a Godless hell. In one very emotional moment, people call out and accept the saving grace of Jesus Christ. A moment that should absolutely instill the desire to change a life bound for heartache and defeat to a life that is freed from the burden of sin and its destruction. Here are my questions; If that is the result of my one time decision, if in that one moment my eternity has been secured, Then why does the God call me to examine myself?(2Corinthians 13:5) Why am I to show myself approved?(2Timothy 2:15) Why am I to walk circumspectly?(Ephesians 5:15)Why am I to attend worship?(Hebrews 10:24, 25) Why am I called to be Holy?(1 Peter 1:16) Why am I to tithe?(Matthew 23:23) Why have I been called to repent?(Luke 13:3)
If after I have accepted Jesus Christ as my Savior and Lord and my eternal life has been secured, are there so many instructions on how to live my life as a follower of Jesus Christ. I accept the sacrifice He made on the cross. I fully believe in His resurrection. I mean even Jesus said "It is finished". He is my Savior and Lord! I prayed to God to show me what I was missing?? And that's when it hit me!!
He did finish it. Salvation was secured for the sinner that accepts Jesus Christ as their Savior and Lord. There is no way to earn it, you can't steal it, buy it or can anyone other than Jesus provide it for you. It was finished by Jesus Christ my Savior and Lord. Did you hear that? The answer was right there. There is the reason for all the post salvation instructions in our Christian walk. Jesus is my Savior and Lord. There it is again. Let me say it one more time; Jesus is my Savior and Lord. He can't be one without the other. So many people want to make Him their Savior but do not allow Him to be their Lord. That's the reason for all the post salvation instructions. For us to make sure that He is, not only our Savior, but our Lord also. For this reason we are to examine ourselves, we are to show ourselves approved, we are to walk circumspectly, we are to not forsake the assembly, we are to edify one another, we are to pray, we are to love, we are to repent and live holy lives set apart from the world because Salvation isn't a onetime emotional act that changes nothing but your destination!! It is a onetime physical act that changes everything that leads to your final destination…. Those instructions are there for us to know the truth about our salvation. He showed us such grace by paying the sin debt that we could not pay. Oh what grace we have been shown. He Loves us, oh how He loves us. Let us now not forget that we are to love him also. (Matthew 22:37) Search His word for your life's instructions. They're there for our benefit.
Pastor Brian said it best a couple of years ago when we were chatting. I voiced my thought about once saved always saved and he said it best, "If saved, always saved. Remember, If we call Him Savior, He must also be our Lord.